How To Tell if Your Bounce Rate is Good or Bad
A very common question we get from clients and participants in our free marketing workshops is, how can I tell if my bounce rate is good or bad?
There are good and bad overall bounce rates.  But it's always better if you can compare against your competitors, or at least other businesses like yours.
What's My Bounce Rate?
Maybe you're new to the idea of bounce rate.  Let's define that quickly before we move on to knowing if your bounce rate is good or bad.
Like most modern digital marketing terms, the exact definition varies from expert to expert.  We define it universally as the percentage of website visits that end on the original landing page, with no follow-on actions (clicks, scrolls, or additional page views).
Bounce Rate (%) = Visits that Only Access a Single Page ÷ Total Website Visits
Your website analytics will often calculate this for you, especially if you use Google Analytics.
Is Your Bounce Rate Good or Bad?
Once you know your bounce rate, now it's time to figure out whether your bounce rate is good or bad.  Orbit Media Studios conducted a study and published this list, which is reinforced by other available published data.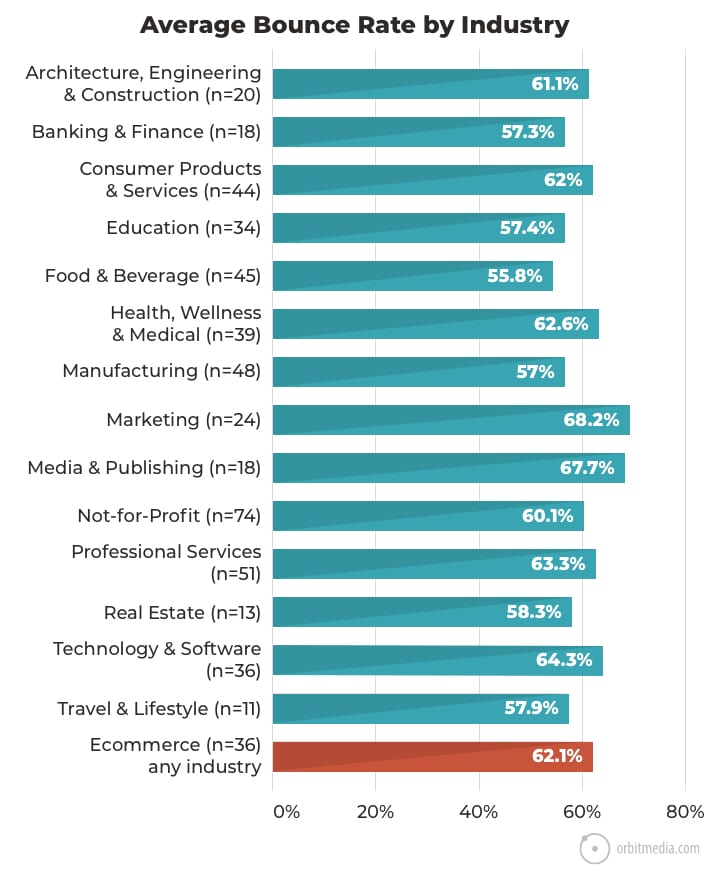 More Ways to Assess Your Bounce Rate, Good or Bad
In general, we see average bounce rates at about 60% across the board (regardless of industry or purpose of website).  These vary by the types of traffic that are generated:
Organic
Paid Search
Paid Advertising
Social Media
E-Mail
For most industries, we view 40-60% as a good bounce rate.  Anything under 40% is considered exceptional.  And if your bounce rate is between 60-80%, that needs work (in our opinion).  A bounce rate over 80% means there is a big disconnect between what users expect from your website and what they actually find when they get there.
Common Ways to Improve Bounce Rate
Often when bounce rate is high, an analysis of your website analytics will uncover a situation or two where bounce is extremely high.  It's easier to address the worse culprits first.
If you're generating a lot of paid traffic to your site and getting a high bounce rate, consider these common causes:
Landing on the Wrong Page.  When potential customers visit your site on the basis of a search or advertisement, make sure they're getting directed to the most relevant page on your website.  If not, they may not make the effort to find it.  Subsequently, they "bounce."
Too Much Friction.  Your website may be demanding too much information or placing too many obstacles in front of visitors too quickly.  If visitors have to give up too much information or jump through too many hoops too quickly, they'll simply bounce.
Intent – Impact Discrepancy.  One of the most common errors in communication is a discrepancy between what we intend to say and the meaning the other person gets from our communication.  This can happen accidentally, as in the case of say "flowers" — maybe you're a florist and the searcher was looking for a garden center.  That visitor will bounce immediately.
These are all fairly straightforward fixes.  Often, putting yourself in the shoes of the visitor (with an understanding how that visitor got there) can be very revealing.
Free Consultation About Bounce Rate
If you find bounce rate confusing, or your bounce rate seems high, or you don't even know your bounce rate we can help.  Just schedule a free initial consultation with our team and we'll make sure one of our website analytics people is on the call.
If you're not ready for that yet, get to know us better by reading more articles like this in our free Local Marketing Blog, and sign up for our free e-mail newsletter so you get alerted when more articles like this get published.
Thanks for visiting today!